Past & Present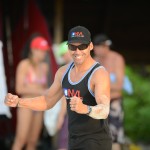 Albert Hannemann
"AL-B" is the Founder of Volleyball Vacations/BEACHFEST Events and the National Volleyball League and Director of the Club Med NVL Volleyball Academies in Port St Lucie, FL. He won the Hermosa Beach open & 2009 U.S. Open Champion. The Olympic Festival Gold Medalist loves his zip ties and staple gun, Disney movies, shopping, and yelling "SOCIAL."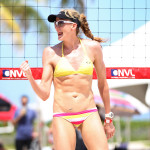 Kerri Walsh
3-time Olympic Gold Medalist. Her nickname is "6-feet of sunshine" and Kerri is one of the nicest people you will ever meet. We all hold our breath as we cheer for her to win her 4th Gold medal in Brazil in 2016. She enjoys her beautiful children and her amazingly passionate husband Casey "The Wolverine" Jennings.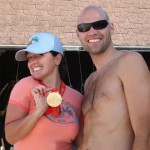 Phil Dalhausser
Olympic Gold Medalist. Phil has transformed the game by being the most skilled player in the world and possibly the best player of all time. He's a great guy that loves video games, public speaking, finding shorts that fit him, and high ceilings.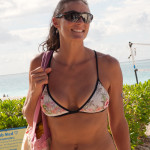 Jenn Snyder
"Snydz" will surely make you smile within 3 seconds of meeting her. A volleyball vacations staple and one of the top players on the NVL. Jenn truly makes everyone feel better about themselves and somehow wins every secret bikini contest at every Volleyball Vacations. Jenn loves to pretend she isn't tired every day, marbles, soft music, and letting you know that she is kind of a big deal.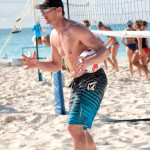 Josh Binstock
2012 Olympian and has won every NVL tournament he has competed in. One of the most dynamic players in the world as a blocker and defender. This Canadian loves to coach, meet new friends, swimming the breast stroke, long walks on the beach, and talking about how one day he will be a U.S. citizen once he finds "the right girl" but clearly just wants an easy way to become an American.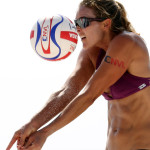 Chelsea Hayes
The NVL's 2015 "Rookie of the Year" is always full of energy and a fan favorite. "Chels" is known for her passion to coach and train players of all ages. Chels loves to play dress up, lizards of all shapes and sizes, and Swedish fish.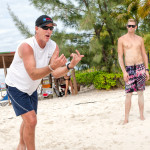 Sinjin Smith
Original "King of the Beach" and winningest player of all time. Responsible for beach volleyball becoming an Olympic sport and for growing the game all over the world. Loves the game so much that can talk to anyone for hours about it. Seeing Sinjin out of his board shorts and vintage T-shirt is like a Bigfoot sighting as his style of fashion is like no other. He loves playing dominos with his homies, signing autographs, and the sound of hummingbirds.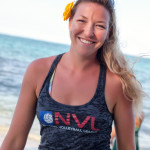 Tarin Keith LoCascio
One of the favorite Pros year after year. Not only is she a great player & coach, she is also a new mommy! You'll be sure to have fun when she is around. Look out for her nasty cut shot and the best standing pokey in the game – beep boop. The other half of the famous couple "Tandy" she loves fishing with her hubby, VBV pro Andy LoCascio, going to every exotic country in the world and dancing in the rain.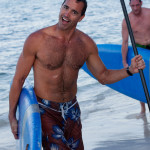 Mark Kerins
Among the championships he has won on the pro tour, this caveman was best known for being the hardest hitter in the world. Mark is the heart and soul of Volleyball Vacations. He has been known to watch multiple sunsets in one trip while using conch shells to teach campers how to be better setters. He can do the splits and make Prince look like he doesn't know how to dance. "Captain Caicos" loves to paint himself silver, anything free, and telling you the same story 20 times in a week while shaking his head like a bobble head doll.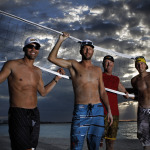 Sean Rosenthal
2 time Olympian and could be best athlete to ever play the game. Self proclaimed "best night pro ever". "Rosie" is a legend in Hermosa Beach CA and loves his wonderful family and hopes to be in Brazil competing in his third Olympics. Rosie likes jump roping, darts, and the smell of candles.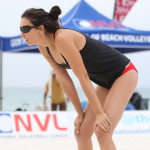 Michelle Williams
Known as the other half of "Team Gorgeous" and biggest accomplishment in life was not only her 2 sons but her meeting husband Olympian Mark Williams at a book club. "Meech" maintains her dominance on the NVL and loves freckles, fine wine, and creating software solutions for bird watchers around the world.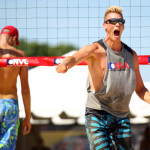 Casey Patterson
Former NVL Champion and is known for his passion and energy on the court. Has 2 sons that may already be better athletes than him and a beautiful daughter that he can't stop staring at every day. Clearly is famous for having the coolest and most likable volleywife in the game. Casey likes to play hide and seek, bowling, crickets, and muscle T-shirts.
Aurora Skarra-Gallagher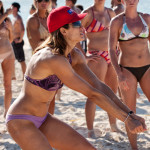 One of the hardest working women in the sport. Training to be a fireman, she is known to wake up early and train with the campers every day rain or shine. Aurora loves to spear fish, anything Polynesian, and juggle coconuts.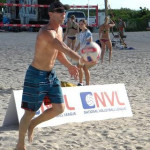 Casey Jennings
Casey has won many tournaments but most famous for having awesome kids. So fun to watch play and his defense is ridiculous as he continues to transform his game to stay on top. Casey loves to dress like a pirate, have no body fat, and be AL-B's buddy.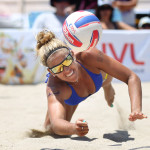 Whitney Pavlik
This NVL champion was a great addition and can't wait to get her back. Whit loves to have a steady volleyball partner, blackjack, and Jamie Foxx movies.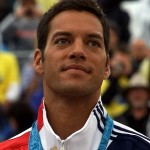 Eric Fonoimoana
Olympic Gold Medalist. "Fonoi" won his Gold medal and was said to be one of the biggest upsets in Olympic history. Known as the big game hunter and loves to also grow the game. Eric loves to wear wrestling masks, sign autographs in Spanish, and not sing.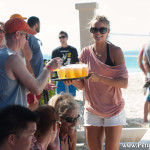 Jess Gysin
Jess is a very talented player that prefers football over volleyball. She loves hand stands, kale chips, and screaming at horror movies.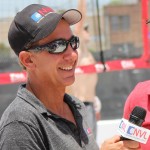 Andy LoCascio
This long time VBV veteran is more than the top fisherman in the world. Nicknamed "Salamander" for his smooth movements in the sand like a slippery lizard. Andy was able to fulfill his lifelong dream of marrying a hot volleyball pro when he met VBV Pro, Tarin, to form the celebrity couple "Tandy". Andy is without a doubt the nicest man in the world and can build a house with toothpicks and chewing gum, teach a dog to stop licking himself in minutes, and sports some pretty sweet chest hair.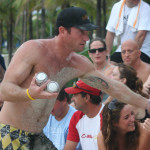 Matt Olsen
"Matteo" and wife Lindsey were best known to remember over 120 campers names in 48 hours. This former tour champion owns a successful junior volleyball club in Sad Diego and likes to whisper sweet nothings to Lindsey while doing fingertip push ups.