Is there a schedule for the week?
Yes. You can plan on organized tournaments in the morning, clinics in the afternoon, followed by open play with the pros, and theme parties every night. Some of our common themes include – all black, all white, Hawaiian/floral night, disco night, pirate night, Masquerade party, and elegant night. It's different every year!
The great thing about this trip is that it is all about you. You can play as much or as little volleyball as you'd like. Since Club Med is an all-inclusive resort, you can grab a cool beverage whenever you want.
Here is the schedule of events for 2015: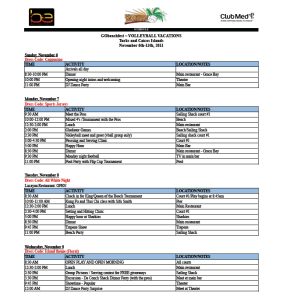 I've never played volleyball before. Can I participate?
Yes! We welcome every level from beginners to advanced players. The tournaments and clinics are broken up by skill level to keep things fair and enjoyable for everyone.
Do I have to dress up?
No, you do not have to participate in the dress code, but we highly recommend it! Our pros go all-out to make every night memorable. The more creative your costume, the better.
What do I need to bring with me?
These are some of the recommended items you should bring on the trip:
Sunscreen
Waterbottle
Swimwear/Coverups
Hat
A good attitude. Anyone with a bad attitude may be voted off the island
What if I don't have a roommate?
We do our very best to accommodate everyone with an appropriate roommate. In the rare occurrence that we cannot pair you with another guest, you will be charged the single room rate. Sign up early to improve your chances of getting a roommate.
Are there any families/kids on the trip?
At Sandpiper Bay, Florida, all ages are welcome. At Turks and Caicos resort it is an adults only club, restricted to 18+ only.
What does all-inclusive mean?
All-inclusive means all your food, drinks and alcohol are provided for your entire stay. They even keep Sharkies (the cafe/bar on the beach) open late night for us. Some top shelf liquor or wine is provided at an extra cost.
Do I need to bring cash for tipping or shopping?
No. Club Med does not allow any purchases with cash or tipping of the staff. Any excursions outside of the club can be purchased with a credit card. Make sure you call your credit card provider and let them know your travel dates to avoid any issues.
What excursions are available during the week? Do we need to book them early?
We usually take a day off specifically for excursions. There are a variety of excursions available at the resort that you can book at any time during your stay. We also offer a dinner with the Pros at "Da Conch Shack", ranked one of the top beach restaurants in the world.
Other activities offered…
Trapeze
Sailing
Scuba
Stand Up Paddle Boarding
Kayaking
Kiteboarding
Snorkeling
Private Charters
Biking
Island Eco Tours